Naturehike Sleeping Mat Review
Hey folks, today we've got a Naturehike sleeping mat review to share with you. There are quite a few sleeping mats out there from Naturehike, but we're focusing on this one specifically.

I recently had the chance to try this mat on an overnight trip, where I paired it with my 3F UL Gear Solo and Aegismax Down Sleeping Bag. So, let's see how things turned out!
Overview / Specs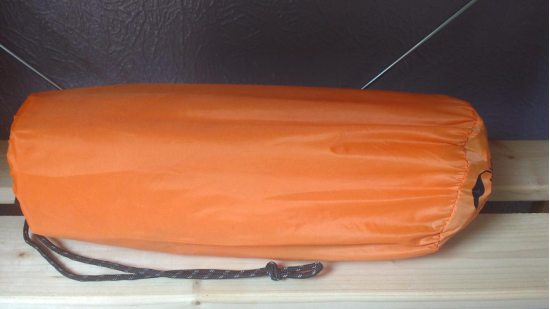 I really like the super small pack size of this Naturehike sleeping mat
There are approximately 70 bazillion sleeping mats out there to choose from. What really drew me to this one was that it seemed like a really good balance between a comfortable night's sleep, a light pack weight and small size. And, maybe most importantly – it wasn't going to break the bank!
Size
The size of the mat when fully inflated is 185 x 54 x 3cm. The 3cm thickness is for the mat itself, but it also has a pillow section which is a little bigger at 6cm. The mat tapers at the foot end, presumably to save on weight, but I'm 6 foot and not as slim as I used to be, and I found there was ample room (more on that later!). When packed down, the mat is a relatively tiny 25.9 x 9.9 cm (10.2″ x 3.9″). I even managed to shave roughly another couple of centimeters off the short end of the pack size just by rolling it up a little tighter!
Weight
The stated weight on this mat is 460 grams (just over 1lb). However, when weighing this on my scale – bag included – I found it came in at just 420 grams! Bonus.
Materials and construction
This mat is made from a 20d ripstop nylon with TPU coating. It has an 'eggshell' inflation design, which I worried might make it less comfortable – but more on that later. The mat has an R-value of 1.5, which isn't the best insulation level in the world, but again is a trade-off in terms of size, weight and price.
Naturehike sleeping mat review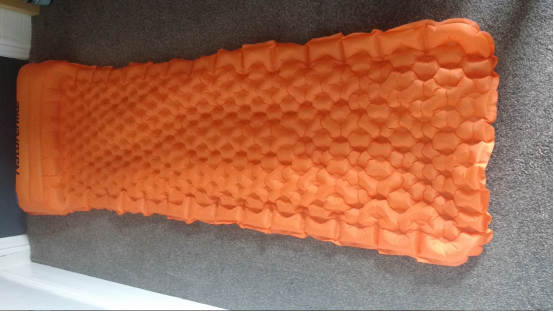 So, having paired this mat with my Aegismax bag and 3F UL Gear Solo on a recent overnigther, how did it perform? The short answer is, pretty well! Let's get into it below.
The Naturehike sleeping mat, fully inflated
Enjoying this Naturehike sleeping mat review? Why not share it on Facebook, and help us spread the word around!
Inflation and deflation
Inflation was pretty easy – I got it up to full whack after maybe 7 or 8 breaths. Your  lung capacity may vary. When it came to deflation however, it was a little trickier. There is a bit of a knack to it – fold it into thirds on the long side, then roll it up with the valve open. However this was a thicknessminor gripe, and it was easy to intuit after I failed to fully deflate it a couple of times!
Warmth
On my overnighter, the temperature dropped to around 10 Celsius in the night, but I never once found myself to be chilly on this mat. How much of that was down to my sleeping bag versus the mat is anyone's guess! But it certainly seems like this would be a viable mat for 3 season use.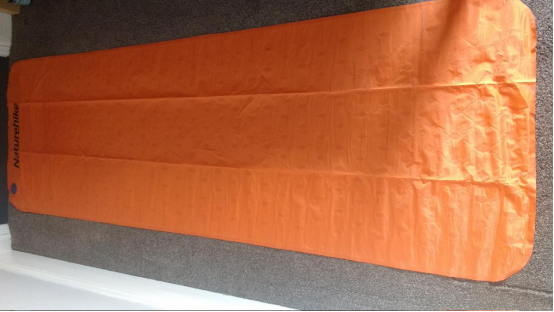 The Naturehike sleeping mat, fully deflated
Comfort
In terms of comfort, I was worried that I would slip off the mat in the night, or that side sleeping would be uncomfortable given the fairly meagre 3cm air cushion. However, in my personal experience, neither of these was an issue. It's true to say that if you're side-sleeping you almost touch the floor, but not quite.

If you're a side sleeper and need a lot of comfort, this may not be the best mat for you. On my trip, I slept like a log, and I have a tendency to sleep both on my side and back. When I awoke the next morning, I was pleasantly surprised to find the mat still underneath me, rather than halfway out of the tent!
Our Verdict
So, what are our final thoughts on this mat? Overall, that it's awesome. This mat will set you back a fraction of the cost of an equivalent western brand ultralight sleeping mat, with very comparable specs. It held up just fine on a chilly Autumn night in the UK, and I was warm and comfy throughout.

In terms of gripes about the sleeping mat, the only ones I can see are:

* Possibly not the right mat for comfort-loving side sleepers
* Slightly fiddly deflation at first, but this is easily mastered

So, if you'd like to buy this sleeping mat from Naturehike, you can buy it on Ali Express here, or from Amazon UK.
Well, that's all folks! Hope you enjoyed this Naturehike sleeping mat review. Questions, comments? Get in touch to let us know your thoughts! And don't forget to check out the rest of our blog for more money saving tips, tricks and gear reviews from the trail. Until next time!
---